Moisturizing & Repairing Treatments
Specially developed to restore the nutrients that hair can lose over time due to heat styling, including blow-drying, hair irons, chemical treatments, pollution, etc.
The keratin and caviar extract formula contains proteins, vitamins A, E, D, and B complex, lipids and trace elements. It is a rich mix of ingredients that minimize frizz and volume, making hair healthy again, looking incredibly shiny and smooth.
Suitable for all hair types, especially thick, dry and frizzy hair.
How the product works:
It will deeply penetrate hair, acting from the cortex to the cuticle.
The nano molecules of the product will penetrate the hair cortex filling its gaps with protein, vitamins, minerals and Keratin. The product will also act in the hair cuticle replacing dead cells with keratin and protein particles.
Key ingredients in the formula:
Hydrolyzed Keratin and 21 Amino Acids: This protein complex can restore shine and resilience to hair.
Hydrolyzed Collagen: The main function of the collagen is to retain water inside the hair strand, filling gaps and making the hair stronger, shinier and more resilient.
Caviar Extract, Silsoft Nano Technology: Antioxidant, vitamin E and anti-frizz properties, is a powerful anti-ageing compound penetrating the hair shaft and also protecting hair from external aggression.
Argan and Macadamia oils: A natural hair moisturizer.
Ultra-shiny, silky, smooth.
Healthy hair, with frizz and volume reduction.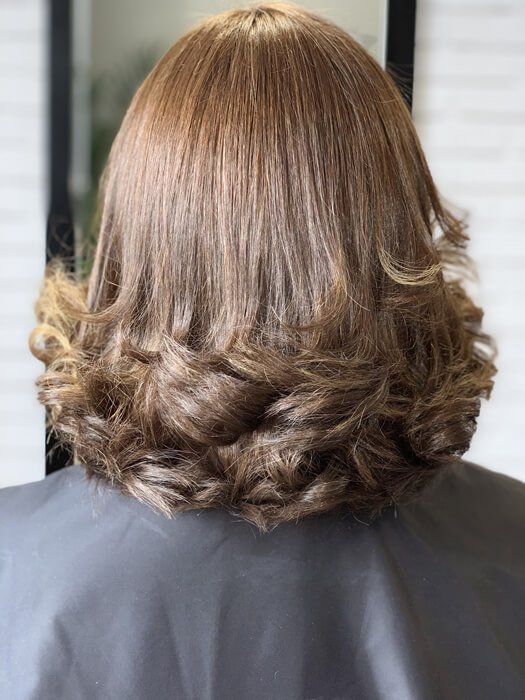 1 - What is the SOS anti-ageing "hair botox"?
It is a milder alternative to Brazilian Keratin Treatments, it will reduce frizz and       volume without making the hair straight and leaving it incredibly shiny and smooth.
2 - Will it leave the hair straight?
No, It will just reduce volume and make your hair frizz free.
3 - How long does it last?
It lasts from 4 to 6 weeks.
4 - Does it affect hair colour?
No, on the contrary. It will lift up the colour leaving it with incredible shine.